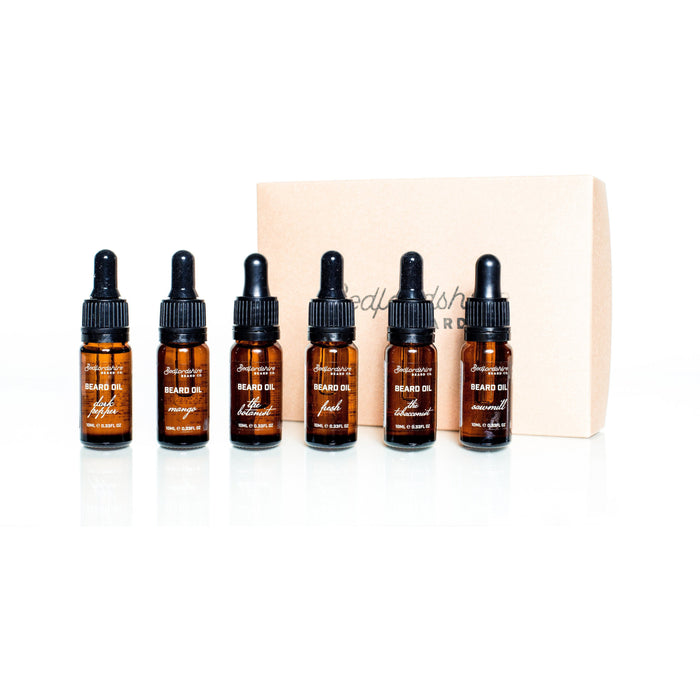 Can't decide which scent to choose? The 10ml multi pack is the perfect solution. Presented in a kraft card box.
The Tobacconist - take a step back in time with this scent, reminiscent of a gentlemen's club in the early 1900's. The spicy yet sweet fresh Tobacco mixed with creamy Vanilla and finishing with an extra kick of Black Pepper is the perfect fragrance for the modern gentleman. 
The Botanist – Earthy & spicy undertones are lifted with flowery mid tones finishing with with sweet citrus.
Dark Pepper – earthy and warm, this is one for the sophisticated gent.  Spicy notes of black pepper and fragrant patchouli give this oil an elegant aroma. 
Sawmill – one for lovers of the great outdoors, a warm and woody scent. 
Mango – seriously fruity, this one will keep you smelling sweet all day long.
Vanilla – a warm creamy scent, you'll be smelling good enough to eat with this one.

Our beard oils have been carefully blended using the best ingredients to nourish and moisturise the skin whilst deeply conditioning your beard.  All oils are handmade in-house in small batches.  Our oils can also be used for shaving and keeping those cheek lines sharp.
Directions for use - Place a 6-8 drops in your palms and massage into hair and skin (combing through if required).
Allergy Info – Please perform a patch test before use.  Whilst our oils are 100% natural, they may contain allergens to certain individuals.