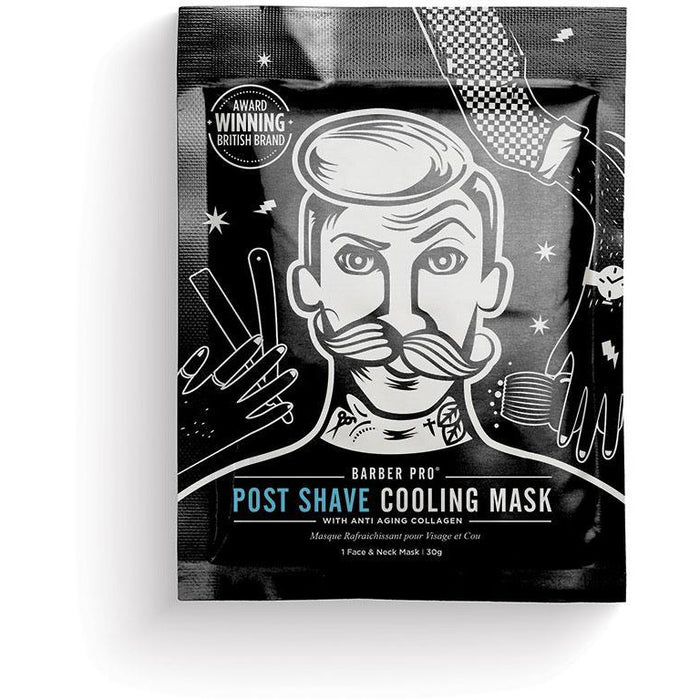 Barber Pro Post Shave Cooling Mask - Award Winning Mask with Anti-Ageing Collagen
Benefits
Anti-ageing 15 minute treatment
Can be used as a treatment or specifically after shaving to cool and soothe
Improving skin clarity, tone and elasticity
Ready to use
Free of Mineral Oils, Lanolin, Petroleum and Parabens
Description
The mask has been designed specifically for men and it instantly cools, nourishes, reduces redness and hydrates the skin. The mask is also infused with anti-ageing collagen to firm the skin and to leave a natural, youthful glow, all in just 15 - 20 minutes!
At the end of the treatment remove the mask and massage any residue into the skin as a finishing moisturiser.
The science behind the our Collagen Infused Facial Masks is the utilisation of marine collagen, combined with key vitamins, herbs and botanicals to improve skin tone and complexion.
As well as long term anti-aging benefits and improvement to your skin, our range of luxury masks are also perfect before a night out, special occasion or for pure indulgent luxury and relaxation.
Instructions
After cleansing with the BARBER PRO FOAMING CLEANSING MASK, apply to dry skin. Unfold mask and position over the face and neck. Leave for 5 ~ 20 minutes. Discard sheet mask and massage remaining residue into the skin. Non-rinse formula.

Key Ingredients
Marine Collagen, Tea Tree Extract, Witch Hazel, Lemon, Tomato, Aloe Vera and Boswellia Serrata Plant Extract.
Package Contents
1 Application / Sachet  |  30g