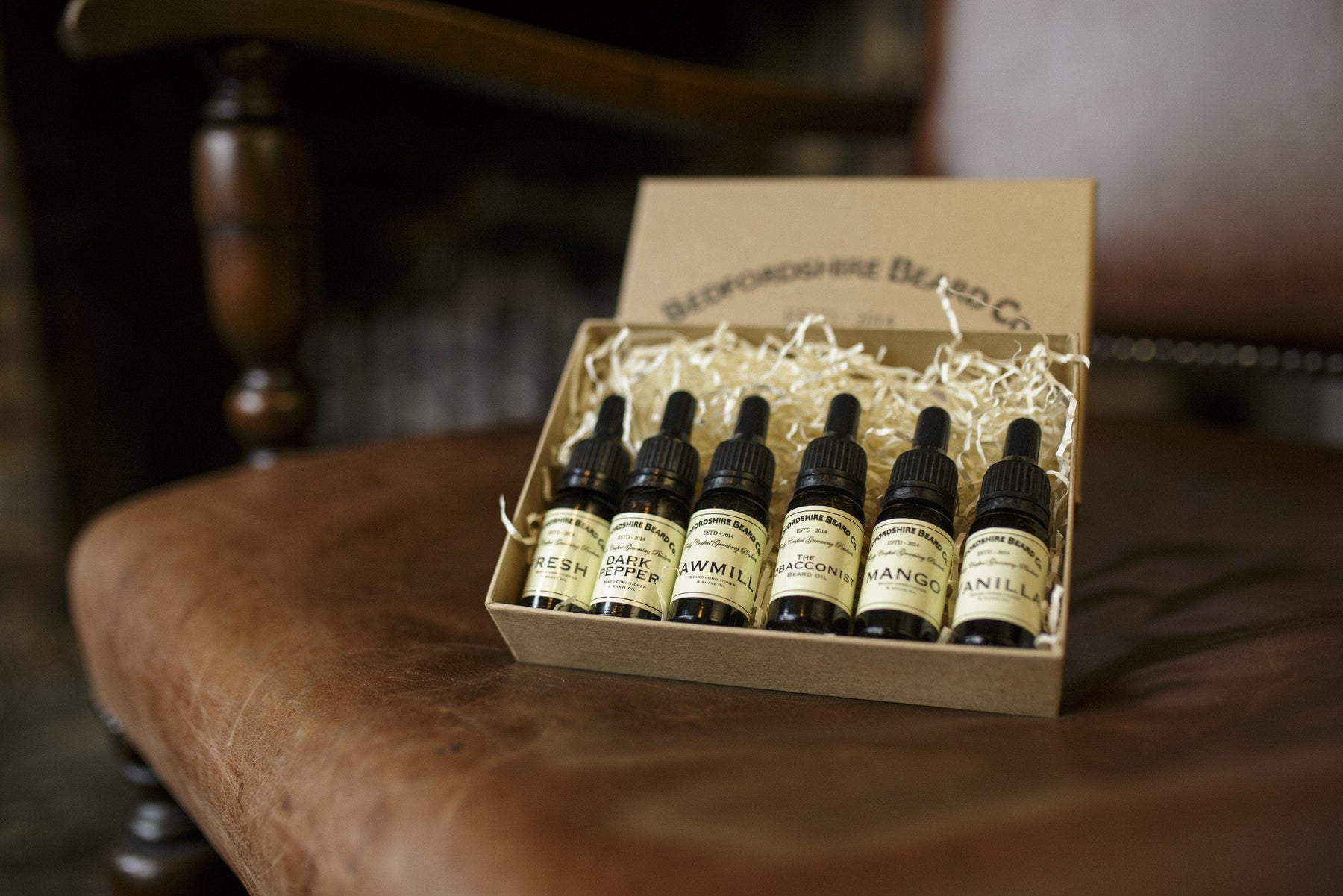 Father's Day Gift Guide
As Father's Day looms around the corner; Sunday 18th June, make sure it's in your diary; we thought a roundup our best gifts would offer some inspiration on what to give alongside the 'Thanks for Putting Up with Me Dad' card you've got lined up.  Here's our top four gift ideas: 
Every beard will benefit from the use of a good quality oil, so there's really no better product that you can give to your dad to help raise his beard game. Oils benefit the hair and skin on the face in more ways than one, from helping his beard smell great (especially with our scents), keeping it nice and soft and most importantly helps to keep the skin beneath well moisturised.  The tricky part is deciding which scent to pick? No worries; we've got you covered. Our Oil Multipack is the perfect gift option; 6 of our hand crafted 10ml oils in a varied range of scents presented in a hand stamped kraft card box.  Perfect for even the most indecisive of Dads and priced at a modest £29.99
If your Dad is the kind of guy who likes to keep on top of his grooming and has more space in the bathroom cabinet than his female counterpart, help him grow his collection! He'll love our best selling Beard Wash, as recommended by GQ.  Our all natural SLS and paraben free beard wash is perfect for even the most sensitive skin and is available in Mango and Sawmill scents priced at £5.99/£14.99.
Is his beard getting a little out of hand? Maybe some grooming accessories would be a good idea to help tame the unruly mane. We have a lovely assortment to help keep beards of all shapes and sizes in check:
Beard Brush — a quick tidy up with our bristle beard brush will keep any stray hairs in check
Trimming Scissors — every beard suffers from the odd unruly flyaway. Keep them at bay with a trim using our stainless steel scissors
Beard Comb — our wide tooth comb is perfect for styling and working product in to the beard and keeps the knots and tangles under control without pulling the hair.
If you fancy pushing the boat out this Father's Day then we have the ultimate gift for you. Our Deluxe Gift set has all a man could ever need to keep his beard looking its very best.  Each set is presented in a hand stained, laser etched wooden box and contains a 30ml oil to nourish the skin, a 60ml beard balm to deeply condition his beard, tash wax to keep the whiskers under control and a wide tooth comb and trimming scissors for styling.  A truly luxurious gift at the affordable price of £49.99.